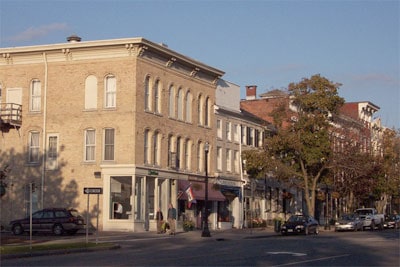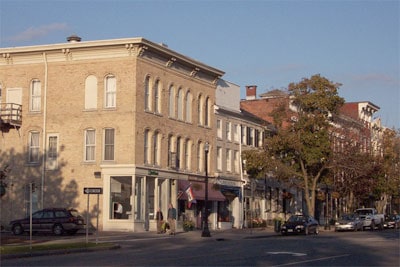 Cazenovia, NY is located on the shores of Cazenovia Lake in Madison County. Founded in 1793 by John Lincklaen, the town teems with history. Lincklaen completed construction of the Lorezno mansion in 1807, and in 1968 the New York State Historic Trust took title to Lorenzo and its property. Today, we celebrate 36 consecutive years of having the Lorenzo Driving Competition on its grounds.
A stroll down Albany Street reveals historically significant homes and business that have remained remarkably unchanged for the last century. Cazenovia boasts a vibrant shopping, dining and recreational atmosphere. From clothing and gift shops, to high end and family -friendly restaurants, to our beautiful parks, there is a lot to do and see in Cazenovia.
If you're in the market for women's and children's clothing and accessories, you will find a variety of options at Isabella, Mulligans, Wishlist and Lillie Bean. If antiques are your passion, you will want to visit Amanda Bury and Tizzy's. Cazenovia also has many gift shops featuring a diverse selection of items. At Lavender Blue you will find an assortment of tablecloths and linens right from Provence, and at Cazenovia Abroad a selection of fine gifts and silver pieces awaits. Cazenovia is also home to the Gallery of CNY, specializing in Regional Contemporary Impressionism & Realism and Turn of the 19th Century Fine Art. In addition, Cazenovia Artisans offers the work of local artists to wear or display in the home. If you're looking for a Cazenovia keepsake or jewelry repair, Cazenovia Jewelry will most certainly meet your needs.
When shopping whets your appetite, there are many dining options right in the village. Choose from Italian at B.G. Buda's, Thai at Les Pates et les Nouilles, fine and family dining at the Lincklaen House, Scottish and American fare at the Brae Loch, Wine Spectator Award winner Brewster Inn, or get your breakfast on at Dave's Diner. If you're craving local and organic dishes, you will want to stop in at Circa for its New American cuisine. Sandwiches and/or pizza will be found at Latte Da!, Subway, Cazenovia Pizzeria or Owaghena Pizzeria. For dessert, check out the brand new Cazenovia Candy Shoppe for a selection of traditional and nostalgic treats.
In addition to shopping and dining, Cazenovia offers more than it is possible to do in one day! Outdoor activities abound in Cazenovia. Take the family to nearby Critz Farms for fun-filled year-round activities, or hike the Cazenovia Preservation Foundation trail system (maps can be downloaded from their website). Majestic Chittenango Falls and its 167 foot waterfall is not to be missed, and also boasts hiking trails. Stone Quarry Hill Art Park, just a few miles out of town, is 104 acres of land sited along walking trails and contemporary sculptures created by national and international artists. If miniature golf is up your alley, try your hand at Shepard's Links, a family-owned venture featuring a driving range, sand volleyball court and a full ice cream menu. You may also want to visit the beautiful Lakeland Park, located in the heart of the village, or the playground at Lakeside Park, just a short drive down the road. And of course, the mansion and grounds at the Lorenzo State Historic Site should be on your "must-do" list. Stroll the historic gardens and tour the mansion, complete with many of its original furnishings. And while you're on site this weekend, stop by the Lorenzo Driving Competition's Welcome Tent and say "hello." We look forward to meeting you, and hope you enjoy your stay in Cazenovia!